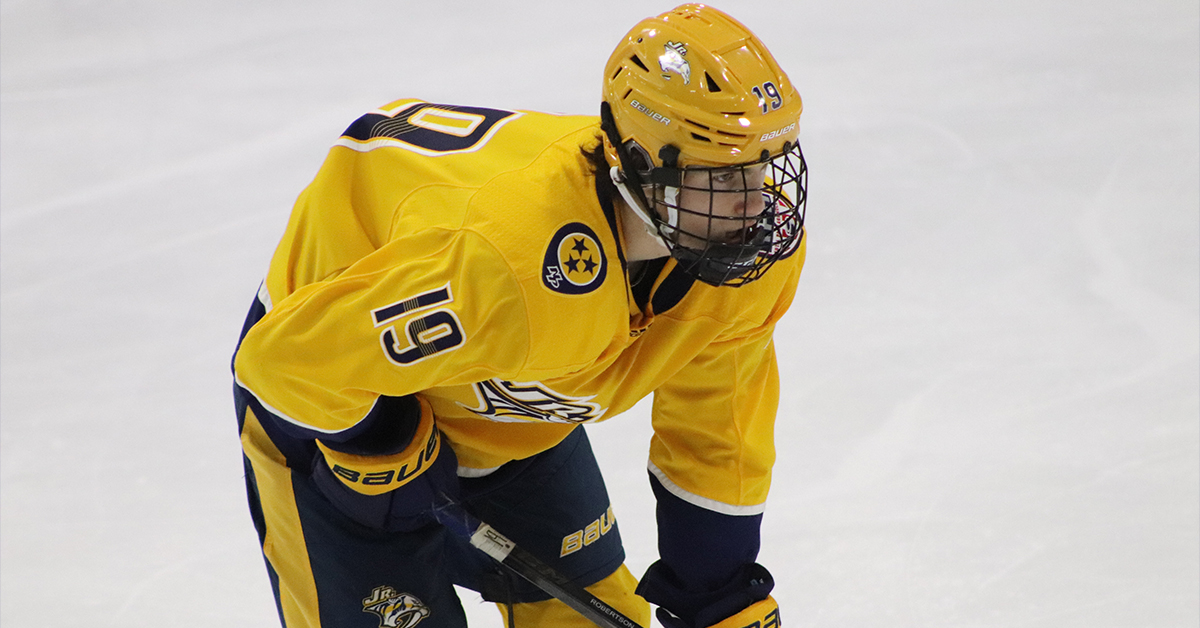 Briere Invited to USNTDP Evaluation Camp
May 9, 2021
///
///
Comments Off

on Briere Invited to USNTDP Evaluation Camp
This has been a unique season for everyone, but for Cameron Briere, 16U AAA, it has been a whirlwind of challenges, opportunities, and success. On Friday, forty-nine of the top American hockey players born in 2005 were invited to USA Hockey's National Team Development Program (USNTDP) Evaluation Camp including Cameron Briere.
Briere joined the Jr. Predators this season after the start of the season coming from Toronto with his mother and sister. His father Steve, Toronto Maple Leafs' Goaltending Coach, had to remain in Canada for his position but is no stranger to hockey in the southeast as a University of Alabama-Huntsville alumnus. "Cameron learned how to skate in Huntsville" Steve shared. "Obviously being familiar with the program, the people, the area and with the lack of options to play in Canada this season, I was confident that this was a great opportunity."
New teammates, a new environment and being one of the youngest players on the team, Briere had to adapt, and it did not take long. "I think my teammates played a huge role in my commitment this year." said Briere. "Being able to come in and bond with these guys right from the start made a huge difference, they all became like brothers to me, and to see that each person on the team was trying to make it in hockey helped because we were all able to push each other and encourage each other even when times were the toughest."
As the season advanced, Briere's confidence grew, and it showed on the ice. With 19 goals and 16 assists in 44 games, Briere's impact was not just felt on the scoresheet according to Scott Nichol, 16U AAA Coach, General Manager of the Milwaukee Admirals, and Director of Player Development for the Nashville Predators. "Cam wants to be coached and wants to grow his craft" said Nichol. "Cam is a very competitive player that blends his skill along with his ability to win loose puck battles."
View this post on Instagram
Briere's confidence increased "Cameron has always just found ways to score. Seeing his ability making plays happen when the team needs it, like his overtime winner in the Tier I Elite League (T1EHL) playoffs, has been incredible to see." said Steve.
The team reached the semi-finals of the T1EHL playoffs following that overtime winner. Later in the season, the stage got even bigger when the team qualified for the USA Hockey National Championship. The opening game of the event was vs the #1 ranked team in the nation and Briere scored a spectacular breakaway goal to pad the lead halfway through a game that ended in a 4-3 victory.
View this post on Instagram
Last year, Briere was supposed to attend the USA Hockey Festival which was unfortunately canceled. Briere's desire for the opportunity to play for USNTDP did not waiver. "It's a dream come true because this was my goal at the start of the year," said Briere. Being invited to such a selective opportunity is an incredible hockey accomplishment, but to his father, it is more. "He set his mind to it and committed to it. This is a life lesson that when you are dedicated and put in the work, you can achieve your goals.
Dedication to his development and the team has presented Briere the opportunity to attend the National Team Development Program Evaluation Camp over May 9-13, at USA Hockey Arena in Plymouth, Michigan. This camp will help select the 2021-22 U.S. National Under-17 Team.
"It's a huge honor to be able to have the chance to represent my country if I make the team." said Briere. "I want to start by thanking my family for their sacrifice to come down and play for the Jr. Predators because it was a life-changing opportunity. I was able to play with older kids and develop and I think I wouldn't be where I am right now if it weren't for this."
The Jr. Predators are very proud of and excited for Cameron's opportunity. We wish him the best at camp and look forward to him representing our country.