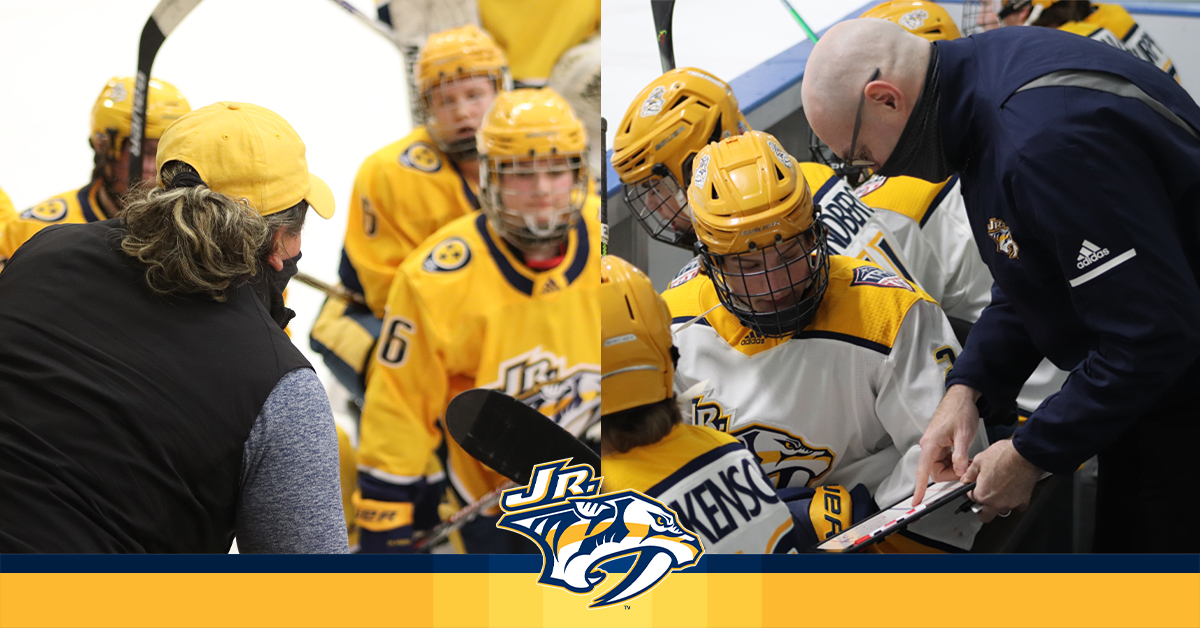 Nashville Jr Predators Announce 21-22 Head Coaches
March 8, 2021
///
///
Comments Off

on Nashville Jr Predators Announce 21-22 Head Coaches
As the dust settles from the USA Southeastern District Tournament, the Nashville Jr Predators excited to announce the head coaches for the 2021-22 season.
BOYS TIER I
---
11U AAA Ty Johns
Originally from British Columbia, Canada, Tyler played three years of Junior hockey in the British Columbia Hockey League (BCHL). After his Junior career, Tyler played four years at Utah State University, ACHA II going to nationals all 4 years. Last season Coach Johns led his Squirt AA Flyers team to a SYTHL championship. He is heading into his 7th season of coaching and is a level 4 USA Hockey certified coach.
---
12U AAA Teddy Rotenberger
Teddy is a Huntsville, AL native that grew up playing for the TPH Thunder. After his youth career, Teddy played in the North American Hockey League for three seasons where he then committed to the University of Alabama-Huntsville. There Teddy was a 3x recipient of the WCHA Scholar-Athlete Award for maintaining a high level of excellence in the classroom while competing at the top level of NCAA hockey.
---
13U AAA Tim McAllister
Originally from Kingston, Ontario, Tim McAllister has more than 20 years of coaching and instructional experience. Coach Tim was one of the co-founders of Thunder Hockey. He won 2 NJCAA National Championships in 1996 & 97 as well as being named an NJCAA All-American for those years.
---
14U AAA Kevin Montgomery
Coach Kevin Montgomery is from Rochester, NY and played for the US National Team Development Program from 2004-2006, winning the U18 World Junior Championship Gold Medal. He was drafted by the Colorado Avalanche in 2006 as the 4th-round pick, #110 overall. He also played in the Ontario Hockey League for the London Knights from 2007-2009.
---
15U AAA Brad Schell
Coach Schell grew up in Scott, Saskatchewan and played AAA in western Canada. Upon finishing his youth career, Brad was drafted by the Spokane Chiefs of the WHL. He played four seasons for the Chiefs including the 2003-2004 where he led the team in scoring with 92 points. Brad was selected by the Atlanta Thrashers in 6th round in the 2002 NHL draft.
---
16U AAA JP Dumont
Originally from Montreal, Quebec, JP Dumont had a very successful 12-year NHL career playing for the Chicago Blackhawks, Buffalo Sabres, and Nashville Predators. JP has been a part of the Nashville hockey scene for the last 12 seasons as an NHL player, youth coach, and junior coach.
---
U18 AAA Steve Jennings
Steve grew up in the Boston area and played in college at the U.S. Naval Academy, where he began coaching following graduation in 1991. Upon completion of his military service, Steve re-engaged in coaching and has coached at Lehigh University and youth hockey programs in Pennsylvania, New Jersey and Texas prior to coaching for the AAA Thunder Hockey Club.
---
BOYS TIER II
10U AA – Blue Jesse Kessler
Born in Nashville, TN, Jesse grew up playing hockey for the TPH Thunder. After finishing youth hockey, he played three years of Junior Hockey in the North American League before attending Hamline University in St. Paul, MN. Upon completing college, he played two years professionally for the Pensacola Ice Flyers in the Southern Professional Hockey League.
---
10U AA – Gold Patrick Murray
Patrick grew up playing hockey in his hometown, Rochester NY, where he spent 13 seasons playing in the Webster Cyclones Youth Hockey Program. He then went on to play for his high school's inaugural varsity hockey team where he earned first team all-state and finished top 10 in scoring for New York State. He was then recruited to play Junior A hockey for the Syracuse Stampede where he played one season. Following the Stampede, Patrick jumped right into coaching. Pat coached with the Nashville Predators Youth Hockey Organization and Preds Select for three years prior to being the Head Coach of our 2020-2021 NJP 10U Blue team.
---
11U AA Carter Penzien
Born in New Haven, CT, Carter was skating by the age of 3. At the age of 5, Carter moved to Nashville, where he played roller hockey until he was old enough to get on an ice hockey team. He grew up playing for the Total Package Hockey (TPH) program, where he then went on to play a few years in the NAHL for the Amarillo Bulls and managed to claim a National Championship. After his Junior hockey days, Carter moved on to play for University of Georgia's Hockey Team, where he helped lead the team to 2 SECHC Championships and 3 National Championship Tournament appearances. Carter was selected for the ACHA Select Team that went to play in the 2019 Universiade Games in Krasnoyarsk, Russia. The same year he also claimed the honors of 2019 First Team All ACHA, First Team South Region, South Region MVP and SECHC MVP.
---
12U AA Zach Jackson
Born in Churchton, MD, Zach played his youth hockey with the Tri-City Eagles & Northern Virginia Ice Dogs AA programs. It was there that he received the Maryland State Hockey League's Top 3 Player to Watch Honors in 2004-2005 and Washington Capitals Hobey Baker Character Award in 2007-2008. After playing ACHA Club D3 hockey at James Madison University, Zach coached the FIT Panthers College Club team before heading to Europe to coach and play. There he served as the US Ambassador for Hockey Without Borders/Hockey Sans Frontieres and coached numerous camps & clinics around Serbia, Bosnia, Croatia, Hungary, Slovenia, & the Czech Republic. After a season with the HK Spartak within the Serbian Championship League, he moved to Nashville where he began as a youth hockey coordinator for the Nashville Predators. He then moved his way up to the Senior Hockey Manager while creating the foundation for youth hockey within the Ford Ice Center and started the Preds Select Travel program in addition to many other leagues and camps. After moving to Massachusetts to become the Assistant GM at the New England Sports Center, Zach moved back to Nashville to take on the role as Tier 2 Director for NJP.
---
 13U AA Justin Mercier
Justin started junior hockey when he was 16 years old playing in the USHL for the St. Louis Heartland Eagles. He then went on to play for the US National Team Development Program where his team took Gold in the U18 World Championships. From there, he played 4 seasons at Miami University, making the NCAA Tournament each year and playing in the National Championship his senior season. Upon graduation, Justin went on to play professionally for 7 seasons. He was drafted by the Colorado Avalanche and saw time in the NHL during the 2009-2010 season. A majority of his career was spent in the American Hockey League playing for the Lake Erie Monsters, as well as the Iowa Wild, Bridgeport Sound Tigers, and Rochester Americans. He rounded out his pro career with two seasons in Europe, playing in the Deutsche Elite League (DEL – Germany) and Italy. He now resides in Nashville with his wife, Chelsea, daughter Lila, and son Nolan.
---
14UAA James Gatley
Gately played D-I hockey at Xaverian Brothers High School in Massachusetts, two years with the NECDL, four years of ACHA D-I & D-II hockey at Berklee College, two years in METRO Elite Prospect program. He has been a USA Hockey certified hockey coach for 9 years (Level 4) and a certified USA Hockey Official for 10 years (Level 3). Gately was Assistant Coach for South Shore Vocational Tech Junior Varsity Team in Massachusetts, Associate Coach for Berklee Club Hockey, Assistant Coach U16- A Admirals (1 year),Head/Assistant Coach Jr Preds U13-U16 AA/AAA (4 years) and Head Coach University School Nashville (1 year).
---
16U AA Kyle Dora
Born in Saranac Lake, NY, Kyle played 5 years of high school hockey where he served as the Captain during his Junior and Senior season. He did 1 year of post graduate school at the National Sports Academy in Lake Placid, NY where he received the Defensemen of the Year Award. Kyle went on to play 4 seasons of NCAA D3 hockey with the SUNY Canton Roos where he served as the co-captain his senior season. Kyle interned for the Nashville Predators within the Amateur Hockey & Development department prior to beginning coaching. He now has coached for 5 years within the Preds youth hockey umbrella. Kyle is a Level 4 USA Hockey certified coach.
---
U18 AA Tom Murphy
Murphy joins the Jr Predators coaching staff following time with the Philadelphia Hockey Club organization. His tenure with the club included a playoff birth in the first year of the program for the 18U AAA team he coached. Additionally, he served as the defense coach for the USPHL Premier team. Before joining the Philadelphia Hockey Club organization, Murphy served as Head Coach in the NA3HL in 2018 in Wausau, Wisconsin. This will not be Murphy's first stop in Nashville, following college he relocated to Nashville where coached several successful teams in Nashville before departing in 2018 for to coach in the NA3HL. The Detroit native played AA/AAA level ice hockey until high school. After winning the state championship (Brighton High School) his senior year, Murphy was drafted in the 1st round of the NAHL draft to the Texas Tornado. Following his junior hockey career, Murphy attended Central Michigan University where he set the program record for 91 points as a defenseman.
---
GIRLS TIER II
14U Official Coaching Announcement Coming Soon!
---
19U Kahlie Singletary
Kahlie is a native of Minnesota and is entering her 15th season as a U19 coach and 11th season as a girl's director. Over the past decade, Kahlie has coached Boys Tier II Travel and High School, Girls U16 and U19 Tier I and Tier II, and worked with various dryland training programs across the country. Kahlie has a passion for giving girls the opportunity to play and train at an elite level while developing female leaders both on and off the ice for collegiate hockey and life beyond.
---
Interested in playing foe the Nashville Jr Predators? Register for tryouts today!
Nashville Jr Predators Girls Tryouts: May 8-9, 2021
Nashville Jr Predators Boys Tier I Tryouts: May 8-9, 2021
Nashville Jr Predators Boys Tier II Tryouts: May 17-20, 2021