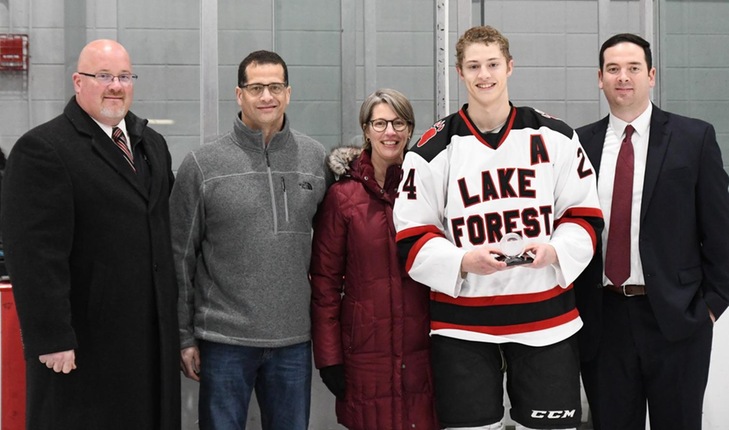 #NJPAlumni: Aaron O'Neill presented with the Peter Taylor Award
February 11, 2020
///
Comments Off

on #NJPAlumni: Aaron O'Neill presented with the Peter Taylor Award
Junior forward Aaron O'Neill was presented with the Peter Taylor Award before the game and celebrated with four goals and two assists in an 8-0 shutout of visiting College of St. Scholastica on Saturday.
O'Neill's six-point performance was the first by a Forester in more than 11 years and the program's last four-goal game occurred two seasons ago. He scored to give the home team a 2-0 lead less than three minutes into the contest and assisted on a power play goal later in the opening period, which ended with the Foresters ahead 3-0. After assisting on a score at 3:46 in the second, he converted a power play opportunity a minute later, completed his second career hat trick at 14:55, and struck again on the power play with 3:02 on the clock to become the 17th player in program history with four tallies in a game.
Junior forward Kyler Magus was the first of four other Foresters to score in the contest and his goal after just 63 seconds of play was the official game-winner and his fifth of the year. Sophomore forward Will Lebel netted his ninth during a power play late in the first period and freshman forward David Cohen notched his eighth early in the second. The other goal for the home team came from freshman defenseman Brendan Coughlin, who became the 19th Forester to score this season. Junior defenseman Mark DerManulian had three assists on the afternoon to increase his team-high total in that category to 19, the most by a Lake Forest player in a decade.
The Foresters outshot their guests 38-15 and junior goaltender Boyd DiClemente needed to make just eight saves to keep the Saints off the scoreboard for the first two periods. Freshman Nick Wiencek made his second appearance of the season and stopped all seven shots on goal he faced in the final period to preserve the shutout.
It was the 11th consecutive victory for Lake Forest, which entered the week as the nation's seventh-ranked team. The Foresters are now 16-2-1 overall and 13-1-0 in Northern Collegiate Hockey Association play. St. Scholastica fell to 5-14-1 overall and 3-12-1 in the league.
Lake Forest will travel to Adrian College, the second-place team in the conference standings, next weekend for a 7:05 p.m. (ET) face-off Friday night and a 3:05 p.m. (ET) start time on Saturday.
Read original article at: https://www.goforesters.com/sports/mice/2019-20/releases/2020012605tatp