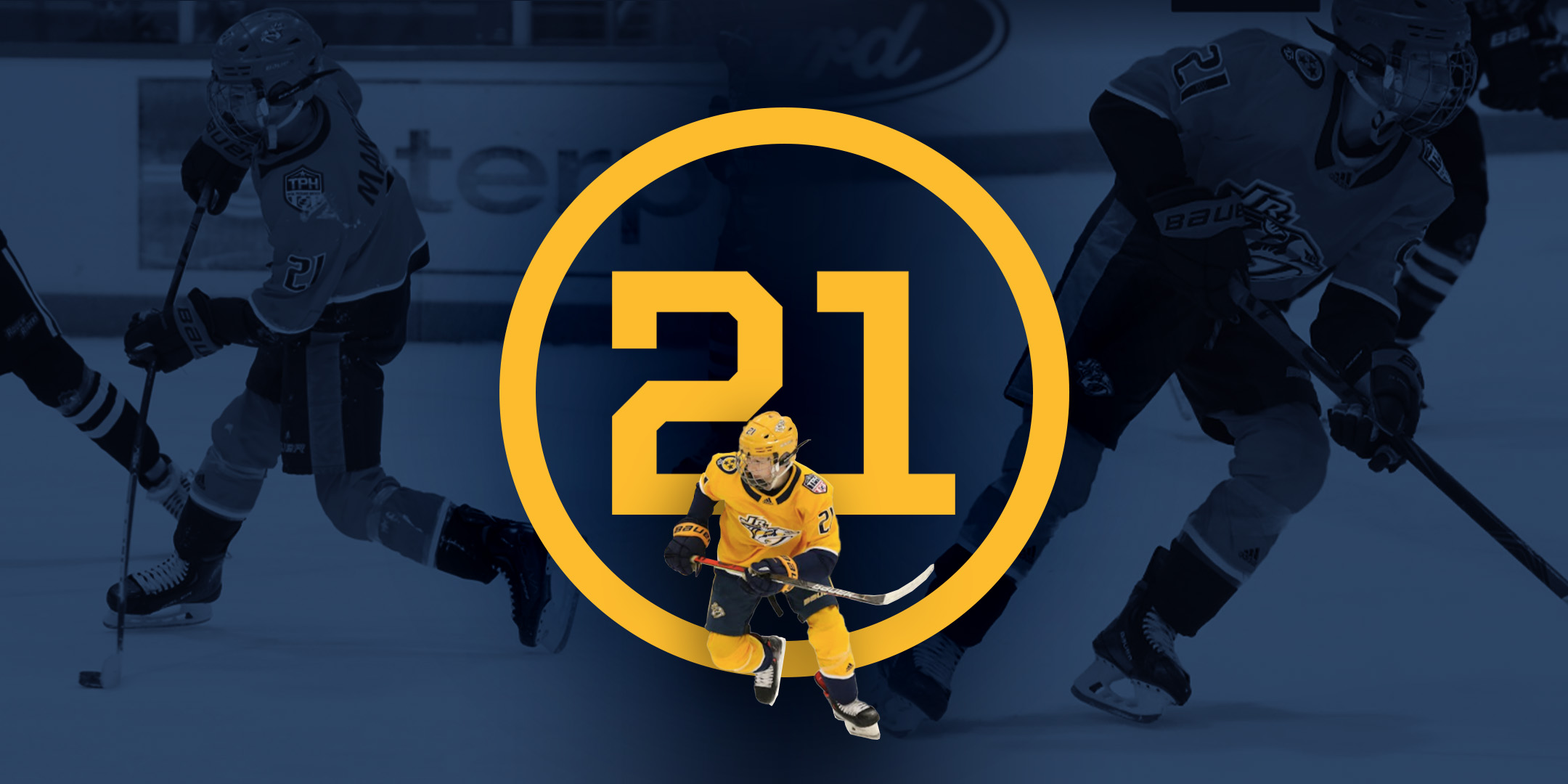 July 5, 2022
///
///
Comments Off

on The 21st Man
Nashville Jr. Predators Raising Funds for Teammate Undergoing Cancer Treatment
---
Griffin Mangan was midway through his second season with the Jr. Predators 2008 AAA team when he noticed a sharp pain in his foot. Thinking it must have been some sort of factory defect with his skates, he ordered a new pair hoping it would eliminate the pain. 
The new skates and some homemade padding helped for a few games, but the pain in Griffin's big toe returned within a matter of weeks. As an athlete, Griffin was constantly on the move. It only made sense that the pain was just one of those generic sports injuries that would go away on its own. He's a tough kid, so a case of turf toe wasn't anything he couldn't play through. 
A few weeks later the 2008 AAA team was playing a game at Ford Ice Center. Griffin was checked into the boards, causing him to badly injure his arm. Luckily, a teammate's parent practiced sports medicine and was able to help get X-rays of his arm as well as his nagging foot injury. The diagnosis that came along with the X-rays would change Griffin's life forever. 
On April 5th, 2022, Griffin was diagnosed with Ewing's sarcoma, a rare bone cancer that can cause cancerous tumors to grow in the bones and the surrounding soft tissue. It affects about 200 people each year, usually children and young adults between the ages of 10 to 20. Luckily, the cancer was detected early and Griffin could begin treatment immediately. He will undergo chemotherapy treatment for the next 7 months to remove the tumor and stop the spread.
"The diagnosis of any cancer will give better results when detected early," said Griffin's father, Sean Mangan. "We are in the middle of the treatment process for this cancer and have been truly grateful for all the outreach and prayers we have received."
Griffin is not alone in this fight, as the Jr Preds are standing with their #21stMan – an ode to the number he wore on his jersey and the impact that he's had on the team. The USA Hockey roster size limits teams to 20 players, but with Griffin in their hearts, every Jr. Predators team has a #21stMan. 
"Having a teammate like Griffin means you have a teammate that will have your back," says his teammate Hudson Lohse. "He's loyal, works hard and he always shows up. Now it is our turn to show up for him. He is family and we will bleed gold and blue for him." 
"Griff is a competitive kid who is the ultimate team player," said his former coach, Tim McAllister. "He was used in all scenarios. The tougher the competition, the better he played and the more he stood out. You get what you ask for with Griff, he's a great teammate and always played for the front of his jersey. Reliable, caring, versatile."
The Nashville Jr. Predators are now calling on the entire hockey community to come together and show support for their teammate, friend, and brother, Griffin Mangan. NJP will be selling team gear that proudly displays the number 21 to support the fight with our  21st Man. If you're looking for an opportunity to support Griffin and the Mangan family, please visit the online fundraising store, all proceeds from the fundraiser will go directly to the Mangan family. 
Go Preds!