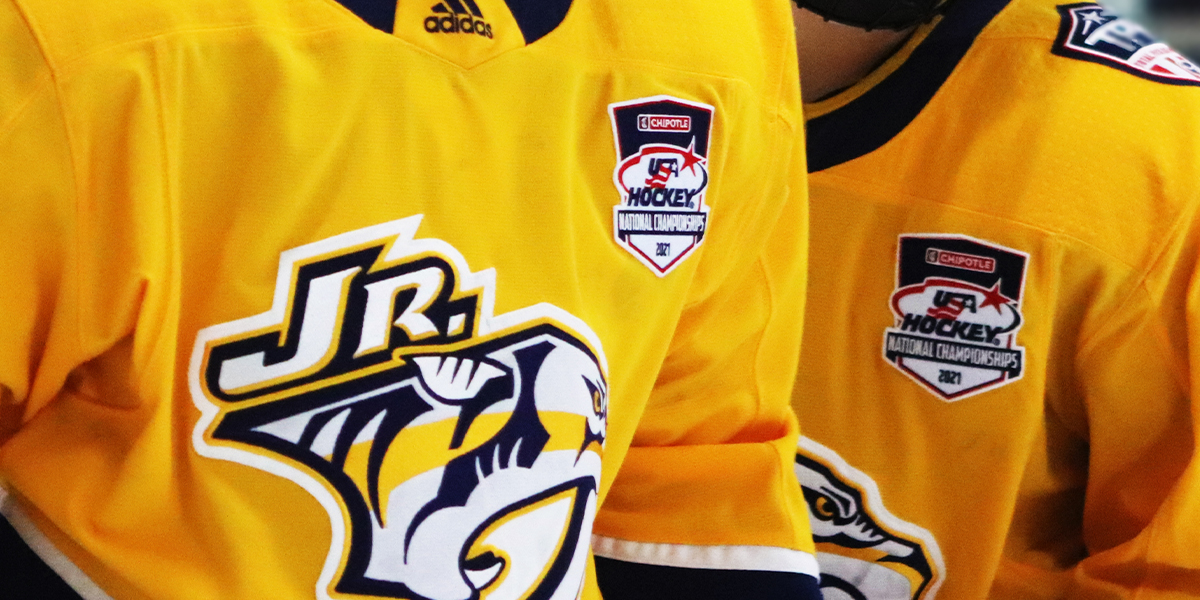 Jr Predators Teams Overcome Challenging Year to Make Nationals
April 20, 2021
///
///
Comments Off

on Jr Predators Teams Overcome Challenging Year to Make Nationals
After a challenging year for so many student-athletes, three Nashville Jr. Predators teams have qualified for the USA Hockey National Championships to compete against the best the rest of the country has to offer. The 18U AAA boys, 16U AAA boys and 19U AA girls will all head to their respective national tournaments at the end of April. Each squad faced their own sets of challenges and obstacles to overcome on their journey to compete for a national championship.
Adaptation was a key theme for the entire Jr. Predators organization throughout the season. From not being able to spend quality team-building time together, to facing unique ways of playing their games, each team in the entire organization overcame obstacles to compete in the sport they love.
"The adaptation wasn't just a once and done thing," said Steve Jennings, Tier I Director of Hockey Operations and 18U AAA boys head coach. "It's been a continual evolution as the season went on. We've had to deal with a whole bunch of different challenges. We were fortunate enough to get to the rink and have tryouts last summer. Even finding billets families was a little more challenging this year, which was totally understandable. Once we got everyone into town, then it was getting to the rink and that process of practicing and team building and bonding. All of those things are critical at this age to make the group become a family. Early on, we met via Zoom with the players and their families to get acquainted and let them know we were able to play. This group of kids has been phenomenal. They have responded to the challenges in the most positive way they can. No matter the obstacle, they come in ready to go and compete for each other. They've come together really well. We've just had to find a way to roll with it through the challenges."
18U AAA Boys Take Winning Streak into Nationals
As the 2020-21 season progressed for the 18U AAA boys, they found a way to continue to drive each other no matter what roadblock was put in their way. Early on in the season, the team was set to play a showcase at a rink in Michigan where one of the requirements was that they wear masks while playing. Knowing that it would be a challenge, the coaching staff asked the team if they still wanted to play and each member voted to play the weekend. They adapted and even held multiple practices while wearing masks so they could get used to something a little bit different from normal for them. Since then, the team has put together quite a run. The team went on a 20-game winning streak including a sweep of the Tier I Elite League tournament.
In a year of adapting and evolving, bringing a team together as a unit can be difficult when not able to be in-person spending time together. Each time, they've stepped up to the challenge knowing the end goal of overcoming the challenges was worth it.
"At the beginning of the year, we wanted to have team gatherings, but couldn't," said Hudson Nadasdi. "We stay connected with our phones with a group chat. Whenever we're able to come for practice or workout together, we don't take it for granted at all and just give our best. This year has been different than any other year of hockey. It's been difficult in some areas, but with how close our team is, it's helped us accomplish more than we ever thought we could. The coaching staff has kept us focused on our goals, and even with all of the pandemic precautions, we've done well."
The trust the players have from the coaching staff has been incredible. Steve Jennings and Lubos Bartecko have done a fantastic job of mentoring the players and guiding them in their responsibilities to the team.
"To have that trust from the coaching staff even when we're down by one or two, we've strung a couple wins together and good teams find a way to win when you're not playing well," said Jr. Predators forward Hayden Nichol. "When we're struggling a little bit, we can rely on other parts of our game. We have a solid team, so you can rely on your teammates to do their jobs so all you have to worry about is your own."
Bartecko's influence on the team's success cannot be understated.
"Lubos Bartecko has done a great job with our defense corps with the 18s and is a huge part of why this team has been successful," said Steve Jennings. "He has a ton of experience on the international and NHL level. He's been a huge addition to our culture here and it's tremendous to see how he's helped our players."
From the addition of Bartecko to the overall makeup of the team, this year felt different in a good way according to Nadasdi. There has been a different demeanor on the bench compared to previous seasons. Now, there is a special type of confidence that the team exudes even when down in a game.
"In past years, when we would get scored on, it felt different," said Nadasdi. "This year, whenever we've gone down, we know that we can do it. We don't necessarily need the coaches saying anything to us because we know what to do. We came back from a two-goal deficit against Maryland. It's huge that we can do it through our own will and know we're going to be okay and come through."
Head coach Steve Jennings confirmed what both Nichol and Nadasdi expressed. For him, there's just something special about this year's team. In the Tier I championship game, Belle Tire scored to tie the match with about three minutes left, but the Jr. Predators quickly came back and sealed it.
"That's when you start to see the character in the team," said Jennings. "The bench was calm and you could hear the confidence in the players. About a minute and a half later, we scored the go-ahead goal. We didn't have to take a timeout and rally the troops. There wasn't a lapse. This group learned to be consistent. They give up a goal and then go get it back. They just get it."
Something similar happened in the district championship game as well, except this time, the team was down by two in the first period. All it took was some encouragement and they flipped the switch.
"In the District championship game, we gave up two early goals and we hadn't done that in a while," said Jennings. "The bench got really tight and a little spooked. We got them to the locker room in between periods. They settled down and then in the second period, they took control of the game and the ice started to tilt."
View this post on Instagram
While going through the challenges of the season and trusting in each other, they've built a family that only wants the best for each other. They know they have a difficult road ahead in facing the best the country has to offer, but they're prepared to do it together and seek redemption after last year's event was canceled.
"This is my third time going to nationals, so I'm looking for a huge outcome," said Nichol. "Every year it gets harder and harder to go to nationals. Especially for those kids last year that won districts and weren't able to go, it's the redemption that finally they're going to get to go after back-to-back champs at the district tournament."
"I'm excited just to be able to go because last year was crushing when we qualified but it got canceled," said Nadasdi. "It's going to be awesome to see how we compete against the best teams in the nation. I know that we can play with any team. If we play our game, we can do amazing things there."
One of the themes for this season has been about playing with a chip on the shoulder and a feeling of unfinished business. After rattling off twenty straight wins, the team has certainly responded.
"We returned eight players from last year's team that won the district championship," said Jennings. "They had a real strong finish to the year and it was surreal. We won on a Sunday, then a team meal on a Tuesday and then that night is when nationals got canceled. Those kids had a burn. I did try to use that concept of 'unfinished business' early. That became an early rallying point for us. We've been able to leverage that with this group. This group responded to our coaching but then really started to push each other. This group has set the bar for the expectations on a high compete, hard work practice."
It has paid off tremendously, and it's showing that those who stay will be champions.
"If we can keep our kids home, we can build teams that can compete with anyone," said Jennings. "Every birth year is not always the same in terms of depth. Our player pool is more challenging, but it also proves that if people will work through the process and be patient, it will pay off. We have kids with commitments to junior hockey next year, so they're getting seen. You look at what we're doing and now we're going to the national tournament and we're going to continue to give that chance to people."
Learn more about the 18U AAA national championships.
16U AAA Boys Joining 18U in Missouri for National Championship
Along with the 18U AAA Jr. Predators, the 16U AAA boys team qualified for the USA Hockey National Championships. The 16U squad with head coach Keith Rowe, assistant coach Scott Nichol and goalie coach Austin Keiser won their district championship match against Florida Alliance to qualify for nationals. For many players on the team, it's new and exciting territory for them. Kal Essenmacher is extremely grateful that they were even able to play due to the pandemic.
"I'm really glad that we've come together and been able to play all of our games thanks to the Jr. Predators organization," said Essenmacher. "This season has been a bit of an adjustment. Last year, I was on a different team, but I'm loving everything here, and glad we've accomplished so much. It's a huge deal to this organization and for many other people to qualify for nationals. A lot of my teammates have never made nationals or been there before. I'm proud of our group and glad we made it there. I feel like we have a good chance to go out and do well at that tournament."
View this post on Instagram
For Essenmacher, he knows winning is important, but he's looking forward to the overall experience and proving that the Jr. Predators can compete with anyone in the country.
"I'm looking forward to having a good time there," said Essenmacher. "Obviously winning is a great time, but I just want to go out there and show that the Jr Predators are a force to be reckoned with. Tell me a couple of years ago that you'd have all these great players from the south with great experiences and I wouldn't have imagined it. I'm proud of this team and organization and all the players that has been able to come from all over the southeast that have come together to compete."
They will have their chance to prove themselves soon enough. Learn more about the 16U AAA national championships.
19U AA Girls Prepared to Make a Run
In addition to the two boys' teams qualifying for nationals, the Nashville Jr. Predators 19U girls squad will be traveling to Denver to compete for a national championship. Like most teams across the country, the 19U girls have faced challenges throughout the season due to the pandemic. From last year's district-winning team that advanced to nationals, they lost eight seniors on top of battling through four COVID shutdowns causing key weekends to be missed. With those challenges, which included having to get dressed for games in parking lots, the team's leadership made it a point for the environment and culture to be welcoming to everyone. They credit their culture and their coaching staff, of course, for what helped them find success this season.
"We worked on making sure everyone felt comfortable and excited to be a part of the team," said team captain Cami Salaski. "Trying to get everyone to hang out outside of practice was difficult, but we made it work. We had some socially distanced breakfasts and spent time at the rink before practices as well. We have a great development program here. All the coaches are incredible and give us 100% on the ice. All the girls have improved so much thanks to the coaching staff."
Assistant captain Sydney Russell also included that social media played a big part in the team being able to keep in touch throughout a season when they couldn't always spend time together outside of the rink.
"Being on social media helped in keeping everyone in contact with each other," said Russell. "We would have team breakfasts and dinner while socially distant and that helped too. I think having some of these challenges during the season and that experience with this group of girls, helped us to stay strong and encouraged. Being able to push each other through those challenges helped everyone get stronger throughout the season."
The time away from the rink during the spring and early summer opened up an even greater appreciation for the game they love. It also opened even more pride on being players representing the southeast at a national level.
View this post on Instagram
"It made me step back and think how much I really love the sport and how much I missed it when I didn't have it," said Russell. "It's made me work harder and enjoy every moment on the ice or in training. It made me enjoy the time that I had and love the sport. Coming from the south and being able to go and represent, shows how much we put into the work done here. You can play hockey anywhere, and as long as you put in the work, you can succeed."
For some of the players on the team, it will be their last games played with the group as a whole. Players like Cami Salaski will be graduating and moving on, so she plans to enjoy every minute of the experience at nationals.
"It's just one last ride with the girls," said Salaski. "My last games will be played at nationals. I'm looking forward to remembering the experience and everything about it."
The Jr. Predators 19U girls team will compete at the USA Hockey National Championships from April 29 to May 3. Learn more.