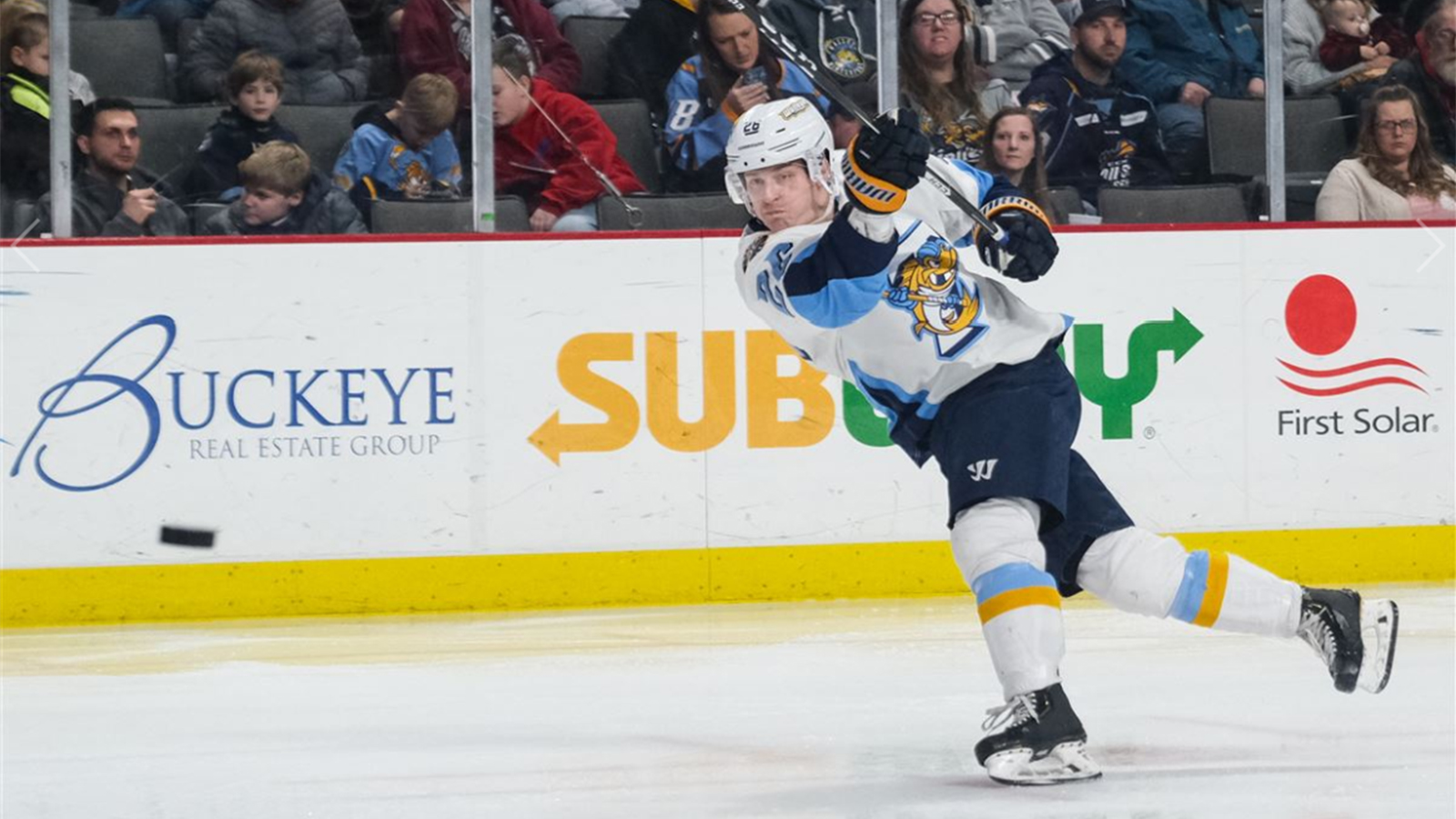 #NJPAlumni Josh Kestner Leads ECHL in Scoring
March 16, 2020
///
///
Comments Off

on #NJPAlumni Josh Kestner Leads ECHL in Scoring
FROM THE DEEP SOUTH TO ECHL ELITE STATUS, WALLEYE'S KESTNER FLOURISHES
Growing up in the heart of football country in Alabama, Walleye forward Josh Kestner bucked the pursuit of gridiron glory in favor of a pair of skates.
Kestner, the 25-year-old who is in his second pro season, grew from those Southern roots to become the most productive goal scorer in the ECHL this season.
"It was challenging being down there. It was a lot of travel," Kestner said. "We'd travel two up to eight hours — one way — just to have a game or two. I credit my parents [Joseph and Kathryn] for where I am, for the financial aspect and also the time sacrifice."
Kestner, a native of Huntsville, Ala., has been the Walleye's most consistent and productive forward.
The right-winger leads all of the ECHL with 32 goals. Kestner also is tied for the overall scoring lead in the league. He has amassed 70 points in 57 games.
"He's been dynamite all year long," Walleye coach Dan Watson said. "He has a knack for the net. We've seen that all year long. He continues to ride that hot streak. He loves scoring goals and we need him to do that down the stretch run. He's a really good player."
Kestner's hockey journey took him from the deep south to Flint, Mich., back to the University of Alabama-Huntsville, and then all the way up to the easternmost outpost of North America in Newfoundland.
Watson saw Kestner for the first time last spring when the young forward was playing for the Newfoundland Growlers against the Walleye in the Kelly Cup Finals. Kestner scored a team-high three goals for Newfoundland in the Finals as the Growlers beat the Walleye four games to two.
"We saw his speed. We saw his skill. Now we're seeing it first-hand," Watson said. "He's been solid all year long. He's been our most consistent goal scorer all year long."
The 6-foot-1 and 185-pound goal scorer is deflective of praise.
"All the credit goes to my linemates [Shane Berschbach and Joshua Winquist]," he said. "They know I'm a shooter. They find me all over the ice. I feel like I have more confidence from my coaches. Watty puts me out there in all scenarios."
Kestner's love of hockey was first fostered by his father Joseph, who grew up in Jackson, Mich.
"He has hockey in his blood," Kestner said. "He grew up watching the Red Wings. I became a big Wings fan, too. His job moved him to Alabama and that is where I was born and raised."
Hockey always was a priority for Josh and his three brothers Seph, Mitch, and Aaron.
"When we moved from Michigan to Alabama, they found a hockey rink first and searched for a house from there," Kestner said. "They knew we would be at rink all of the time. Our house was five minutes from the rink. We would be there two or three times a day."
All four brothers continued to pursue the sport through college.
"My younger brother Mitch plays goalie. So it was always nice to have a goalie to shoot on growing up," Josh said.
Kestner would travel to Nashville, Atlanta, Little Rock, St. Louis, and to Florida to compete in high-level tournaments.
"Hockey, for the most part, is growing in the south. That is really cool to see," he said. "But hockey is only so competitive down south, especially in Alabama. So I had to move to develop my skills."
Kestner attended Owosso High School in Michigan when he was a senior and played for the Flint Generals junior hockey team. He then landed a scholarship to the University of Alabama-Huntsville.
He played four seasons in college, appearing in 132 games. He produced 68 points (44 G, 24 A) before turning pro at the end of his senior year in 2017-18. He played in three games for the Toronto Marlies of the American Hockey League and then signed with the Growlers for the 2018-19 season.
Kestner had 49 points (22 G, 27 A) in 61 games for Newfoundland. But Kestner has elevated his game to a higher level in Toledo.
"He has an unbelievable shot with a quick release," Watson said. "He's not scared to shoot pucks and that's not being selfish. That's him knowing what his strengths are and he uses that to his advantage."
Kestner has twice been named the ECHL's player of the week and was selected to represent the Walleye at the league's All-Star Game in January.
"That's an extra boost of confidence," Kestner said of the accolades. "Hockey is 90 percent mental and 10 percent physical. Confidence is one of the hardest things to grasp. Everyone surrounding me here has helped me build that confidence."
Kestner is closing in on the Walleye's single season-goal scoring-record. His current teammate, Kyle Bonis, holds the record with 36 that was set in 2014-15. Toledo has 14 games left in the regular season.
"I try not to think about it. I take everything on a shift to shift basis. But Bones cracks a few jokes about it," Kestner said. "It's a little bit of give and take. He tells me 'Hey man I'm happy you're on a tear. But can you relax a little bit? Slow it down?' It's all friendly banter. Bones is a great hockey player. His name is up on that board for a reason."
But Kestner, who signed a contract with Toledo's AHL affiliate in Grand Rapids, has yet to be called up to the higher level.
"I think that's more of a management question. The only thing I can do is perform on the ice," Kestner said. "I just control what I can control. My focus is on bringing a Kelly Cup to Toledo."
The Walleye (36-17-5), who have won seven of 10, trail Cincinnati by seven for first place in the Central Division. Toledo hosts the Cyclones on Wednesday.
"We are still chasing that division title. We still have games in hand [four] on Cincinnati," he said. "This is crunch time.
"We have depth. All three lines can score. We have excellent goaltending with [rookie Billy Christopoulos]. The guys believe we can [make a deep playoff run]. It's a confidence thing. This organization has it all from top to bottom. And the fans are bar none the best in the league."
Read original article at: https://www.toledoblade.com/walleye/2020/03/10/From-the-Deep-South-to-ECHL-elite-Walleye-s-Kestner-flourishes